Ok, so we are approaching the mid-way point of the sew-along, and some people have finished their hats already. I will come back and talk about mine (above) in another post, but is that not the funniest photo ever of Noah and Amélie?
First up we have
Ms Midge
. Ms Midge effectively got two hats for the price of
one
none when she made the Oliver + S bucket hat. The Oliver + S bucket hat is available as a
free down-load
and is also featured in the book,
Oliver + S Little Things to Sew
. Ms Midge chose to make the hat reversible, and if you check out her blog, you can see how she has made it with NO HAND-SEWING! Gotta love that!
Ms Midge had never made a hat before now, but you cannot tell. It looks great both ways.
Next up, we have Jen from
Ava Pot Pie
. Jen has already finished TWO hats! Jen also went with the Oliver + S Bucket hat and made a hat for each of her daughters, Ava and Emily.
You would never know that Jen is also a novice to millinery, having also never made a hat before. I have a feeling lots of people will be getting hats this Christmas.
And finally (for now) we have a hat made by Melanie (who also happens to be my cousin) for her daughter, Adara. Melanie made the
Kids Hat
by
You Sew, Girl!
and also, had never made a hat before.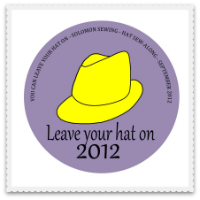 So don't be scared. You can do it. You can find the sign up post by clicking the button above. Join in. Make a hat before the end of September. Have you finished your hat already? Be sure to let me know.