The main reason I started this
hat sew-along
was because I went to put
Amélie's hat
on from last year and it didn't fit. Amélie didn't care, she wore it anyway, on top of her head.
I went looking through my stash and found this fabric with baby fauns and apples on it. It has been in my stash for years. I originally purchased it from
Retromummy
, back when she had her on-line store running. It's not quite pink, sort of slightly apricot and has been difficult to match with other fabrics. I decided to match it with the red in the apples and went with this red spot that I found at my local quilt shop.
I made my hat using the
Kids' Hat pattern
from
You Sew Girl
. I trimmed the edges with some cute binding that I bought a while ago from The Haby Goddess. I could see that the hat required further embellishment, so I added a hat band.
I think the hat-band really finishes it off. It is easily removed for washing and can be tied at the back or side, either loosely or in a bow.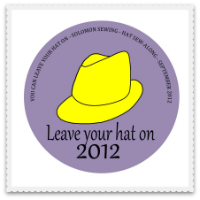 If you are thinking about joining in with my sew along, there is still plenty of time. Just push the button above to go to the sign up post. We are only half way through the month and already several beginners have finished their hats. Some of them have even finished TWO. I still want to get at least two more made. One for Liam and one for Noah. Let's see how we go...
More Hat Sew Along links here: