I have a few more hats that have come in from the hat sew-along. Renae from
The Red Wren
made this gorgeous hat, with bicycle fabric, using the Oliver & S bucket hat pattern.
Sally of
Virtú
made this beautiful hat with some gorgeous strawberry fabric, using the
You Sew Girl Kids' Hat Pattern
. It looks lovely and summery on her beautiful daughter.
I really love the hat-band and the flower embellishment on the side. It gives the hat a point of difference, something that makes it stand out from the crowd.
Rachel of
Little White Dove
made this hat using the free Oliver + S bucket hat pattern. I love the fabric Rachel has used, it has a paisley look and I really love blue with pink. Rachel has some more hats underway, I am sure you will see them pop up on her blog over the next few weeks before Summer.
So that about wraps up the hat sew-along. Between us we managed to make more than thirty hats, which I am really excited about! It was great to see that lots of the people joining in had never made a hat before and most people who made them were keen to make more. You can see all the related blogposts here: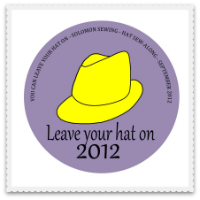 Sign Up Post
Getting Started
Hat Parade #1
Hat Parade #2
Hat Parade #3
Flickr Group

And here are the links for all the completed hats:

Ms Midge
Ava Pot Pie
Melanie
Coco's Loft
Jenni
You Sew, Girl!
Solomon Sewing
Sew Hot Right Now
No Moa
Sew Red Hot
All the Pretty Threads
Chapter Fifteen
CurlyPops
Four Wise Monkeys
Michka
Wendy
Virtú
The Red Wren
Little White Dove

Thank you to everyone who joined in. Who is going to join in when we do it again next year?